Department of Radiological Technology
A radiological technologist contributes to the development of community medicine and social welfare by acquiring the latest image diagnostic skills which are required in the modern medical field.

A radiological technologist, who deals with advanced image diagnosis apparatus is an indispensable member of the medical staff. Currently more and more people are suffering from cancers or circulatory disorders as our society is aging. Clinical utilization of medical radiology is expanding.
Along with the spread of medical equipment, the field of image diagnosis has developed remarkably which increases the importance of a professional who specializes only in medical radiology. To cope with this circumstance, we have organized a curriculum combining basic, applicable and practical subjects organically. Students learn basic medicine, science and engineering, radiological science, various techniques of taking images or image anatomy, treatment with radiological techniques etc. and we nurture technologists with the latest skills and knowledge. The graduates are actively and broadly involved in medical facilities and radiology-relevant companies. It is also possible to study at graduate school and become a researcher. We have more and more elderly people in Japan which is bringing us to an aging society. Moreover, preventive medicine has come to people's attention as a way to keep healthy. From this perspective assured circumstances of receiving higher quality medicine are desired and medical staff with professional knowledge and skill is required.
The licenses acquired by the students
It is possible to aquire the following lisences in Department of Radiological Technology
Radiological Technologist
First Class Radiation Protection Supervisor
Faculty Member
You can refer to information about the department here.
Curriculum
The Department of Radiological Technology provides a substantial curriculum combining basic and applicable subjects to meet the needs of an aging society. Our students can acquire high up-to-date universal skills by studying basic medicine, science and engineering, and radiological subjects as well as other relevant skills. Our graduates are contributing broadly in medical and welfare fields as well as companies and communities. Students can choose to study and research in graduate school.
Curriculum Flow
Year 1
Study concerning the job of a radiological technologist

Students study basic liberal arts along with basic medical knowledge. They observe in a hospital or clinic for study and join volunteer activities.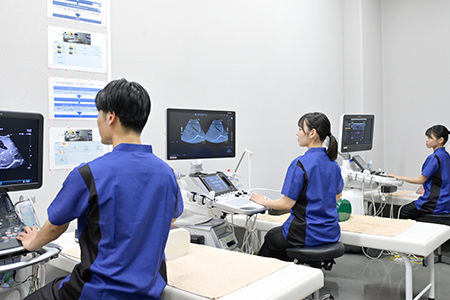 Year 2
Study of basic radiological technique

Students learn the science and engineering which is the basis or radiological science and get practical experience using X-ray techniques to improve their understanding of the equipment.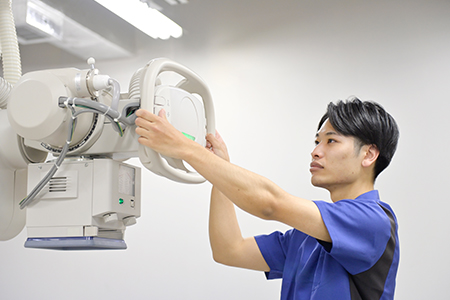 Year 3
Learning radiological technique through practical training in medical facilities

Students develop abilities to learn and think for themselves through practical training and experience with medical apparatus such as X-ray, CT, MRI and ultrasonic devices.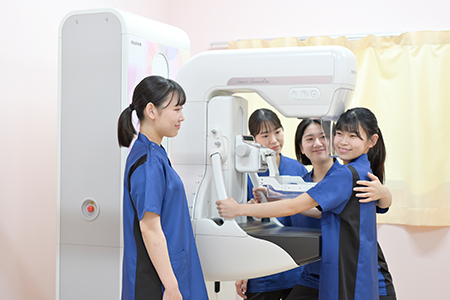 Year 4
Practical operation and preparation for the national examination

Students aim to pass the national examination by using practical training in medical facilities and national exam measures such as "Special study of Radiological Science."