Department of Clinical Nutrition Medical Technology Course
We educate a Medical Technologist with high level knowledge and skills as well as integrity and distinguishing humanity.

Clinical examinations are indispensable for a doctor's diagnosis, assessment of therapeutic process and so on.  These tests are entrusted to medical technologists. There is great responsibility regarding the protection of patients' lives.  We train students to correctly and accurately perform the necessary examinations.  They will also be educated to act with humanity including an ethical viewpoint with basic and applicable abilities to contribute to medical research and diversifying medicine.
The licenses acquired by the students
It is possible to aquire the following lisences in Department of Clinical Nutrition Medical Technology Course
Medical Technologist
Functional Food Consultant
Medical Medicinal Food Teacher
Faculty Member
You can refer to information about the department here.
Curriculum
【Acquiring basic knowledge concerning medicine and a high level of specialized knowledge and skills encompassing the entire range of medical technology.】
Students learn basic knowledge concerning medicine such as biochemistry, anatomy, physiology, pathology and so on.  They then learn highly specialized knowledge and skills necessary for clinical examinations in every area.  Examples include "specimen tests" such as clinical chemistry tests, blood tests, transfusion tests, immune serum tests, gene tests, microorganism tests, and physiology test as well as "physiological function tests" such as electro cardiograms, electro encephalograms, ultrasound tests of the circulatory organs or the abdomen, respiratory function tests and so on.  All of these tests are necessary for diagnosis and treatment. Moreover, students acquire high academic and applicable abilities to work in the fields of basic medical sciences and clinical research.
【Collaboration of medical technology and nutrition science】
Our Medical Technology Course belongs to the Department of Clinical Nutrition which gives students opportunities to study many subjects regarding nutrition such as basic nutritional science and clinical nutrition from specialists. Therefore students acquire the ability to work collaboratively with viewpoints of both clinical examination and nutrition science.
Curriculum Flow
Year 1
General liberal arts and basic knowledge of clinical examinations

Students learn the outline of clinical examinations and general culture as medical specialist as well.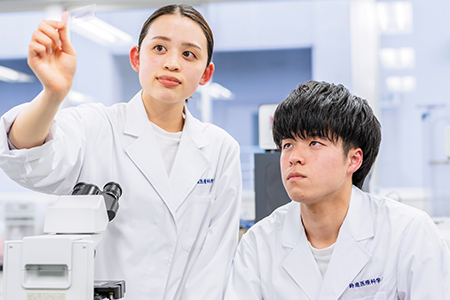 Year 2
Basic subjects and specialized subjects

Students deepen their understanding of a medical specialist while they study basic subjects and specialized subjects which are necessary for a medical technologist.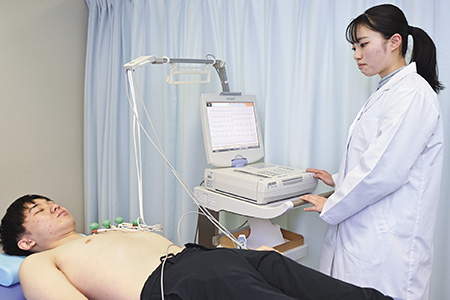 Year 3
Strengthening study of specialized knowledge and practical training in medical facilities

Students study the specialized field of clinical examination and deepen and strengthen their knowledge.  In addition, they experience real clinical examinations during practical training in hospitals to accumulate actual experiences.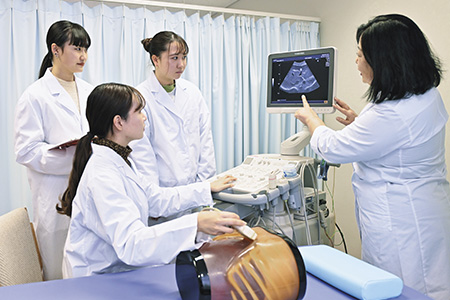 Year 4
Research project for graduation and preparation for the national examination

Students do a research project for graduation as a compilation of their four years of study and actually realize the enjoyment of clinical examination research.  At the same time, they prepare for the national examination for a medical technologist.