Department of Acupuncture and Moxibustion
The aim of the Department of Acupuncture and Moxibustion is to educate and cultivate students so that the can become gentle practitioners in acupuncture and moxibustion.  These students will support and improve people's health by controlling the balance between "spirit" and "body".

What will you do when you experience shoulder pain? Perhaps you will cover the painful part with your hands, try to loosen it up or massage it gently. These behaviors you are trying to relieve your pain unconsciously stimulate acupuncture points (acu-points).
Practitioners of acupuncture and moxibustion relieve and cure disorders and their symptoms by improving the balance between "spirit" and "body". It is such an effective treatment that they control the functions of nerves by stimulating acu-points with needles or with moxa cautery to improve blood circulation. Acupuncture and moxibustion treatments are applied to cure many types of diseases and ailments. such as allergies, chronic diseases in addition to pain control. Recently cosmetic and beauty acupuncture treatments have become more and more popular for both women and men. Some students experienced acupuncture treatments for pain and relief and injuries in junior high school.
You need not worry about pain or scars when receiving treatment with needles or moxa. Basically acupuncture and moxibustion treatments put the least amount of stress on the body.
Our aim in this department is to expose students to a wide variety of medical knowledge including both Western and Traditional East Asian medicine so our students are able to participate in the new field of so-called "Integrated Medicine".
The licenses acquired by the students
It is possible to aquire the following lisences in Department of Acupuncture and Moxibustion
Acupuncture Practitioner
Moxibustion Practitioner
Medical Medicinal Food Teacher
Functional Food Consultant
An athletic trainer certified by the Mie Prefecture Athletics Association
Faculty Member
You can refer to information about the department here.
Curriculum
We educate and cultivate the abilities of our students in the following points:
To deal with any type of pain
To provide suitable and safe treatments to patients
To have significant knowledge about primary care
To have significant knowledge of integrated medicine
To be an active member in team medicine
To contribute to the development of acupuncture and moxibustion medicine
Curriculum Flow
Year 1
Medical Basis and General Education

Students acquires medical basis by studying "Human Structure and Function" and liberal arts. These studies are for preparation for learning in the field of acupuncture.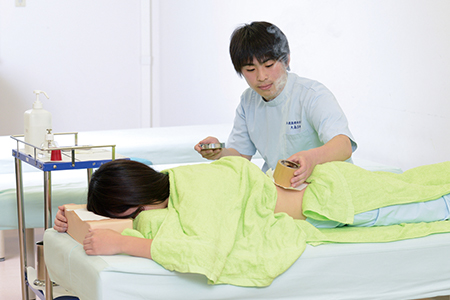 Year 2
From the basis of acupuncture field to clinical experience.

To study basic theory and diagnostic measure of Oriental Medicine which are essential for acupuncture specialists.
To improve practical ability.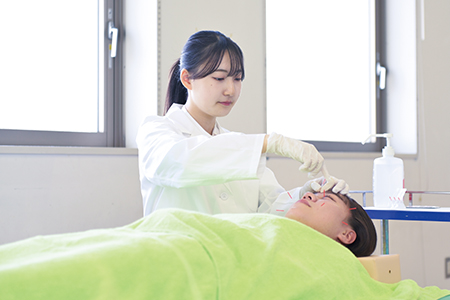 Year 3
To acquire knowledge of Oriental and Western Medicine.

To study special subjects in both Eastern and Western Medicine. In the field of Eastern Medicine, to study special acupuncture subjects belonging to such medical departments as Internal Medicine, Surgery, Sports Medicine and etc.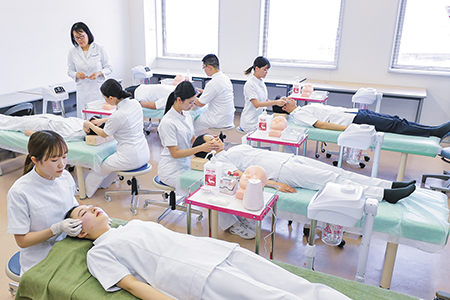 Year 4
Practical training , Graduate research

To train practical treatment at the Acupuncture Treatment Center affiliated with Suzuka University of Medical Science.
To study practical ways of counseling, diagnosis and treatment there.
To research acupuncture scientifically for the graduation thesis.